Are you experiencing chronic back pain and looking for a specialist to help alleviate your symptoms? Finding the right healthcare provider can be a daunting task, but with a little research, you can find a back pain specialist who can help you find relief. In this article, we will explore some tips on how to find a back pain specialist near you, and introduce you to the New Jersey Back Center, a leading center for interventional pain management led by board-certified specialists.
How to Find a Back Pain Specialist Near You
#1. Ask for Referrals
If you want to find a qualified back pain specialist, you can ask your primary care physician for a referral. They will likely have a list of specialists in your area who they trust and have worked with in the past. You can also ask friends or family members if they have any recommendations.
2. Check for Board Certification
When searching for a back pain specialist, it is important to make sure they are board certified. Board certification means that the specialist has met certain qualifications and has passed a rigorous exam in their field of expertise. A board-certified specialist is more likely to have the knowledge and skills to provide the best possible care.
#3. Research the Practice
Once you have a list of potential specialists, do some research on their practice. Look for information on the practice's website, such as the types of treatments they offer, the conditions they treat, and patient testimonials. You can also check for reviews on sites like Yelp or Real Self to see what other patients have to say about their experience with the practice.
#4. Schedule a Consultation
After you have narrowed down your list of potential specialists, schedule a consultation with each one. This will give you an opportunity to meet the interventional pain specialist in person, discuss your symptoms and treatment options, and ask any questions you may have.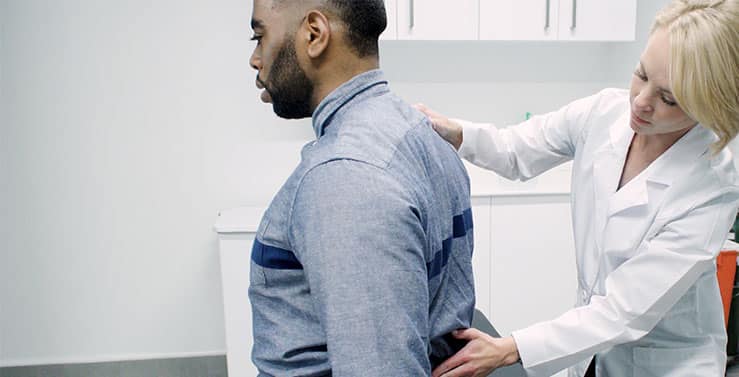 Introducing the New Jersey Back Center
The New Jersey Back Center is led by board-certified interventional pain specialists who provide the most advanced and comprehensive care for patients with chronic back pain. They understand that every patient's pain is unique, and work with each individual to develop a personalized treatment plan that addresses the root cause of their pain.
Advanced Treatments
We offer a wide range of advanced treatments for chronic back pain, including:
Epidural Steroid Injections: This is a common treatment for chronic lower back pain caused by inflammation or compression of the spinal nerves. It involves injecting a steroid medication into the epidural space, which surrounds the spinal cord, to reduce inflammation and relieve pain.
Facet Joint Injections: Facet joints are the small joints located in the spine that help with movement and stability. These injections are used to diagnose and treat pain caused by arthritis or injury to these joints.
Medial Branch Blocks: These injections are used to diagnose and treat pain caused by facet joint arthritis. They involve injecting a numbing medication into the medial branch nerves that supply the facet joints, which helps to confirm the source of the pain and provide temporary relief.
Radiofrequency Ablation: This procedure uses heat to destroy the nerve fibers that transmit pain signals. It is used to treat chronic back pain caused by conditions such as arthritis, degenerative disc disease, and spinal stenosis.
Spinal Cord Stimulation: This is a treatment that uses electrical impulses to stimulate the spinal cord and block pain signals from reaching the brain. It is used to treat chronic back pain that has not responded to other treatments.
Comprehensive Care
The New Jersey Back Center not only provides advanced treatments for chronic back pain but also offers a comprehensive approach to care. We understand the importance of addressing not just the physical symptoms of pain but also the emotional and psychological aspects. We provide patients with access to counseling and other resources to help you cope with your pain and improve your quality of life.
Convenient Location
The New Jersey Back Center is easily accessible for patients from across the state, with four office locations to choose from.
Our Clifton office is located at 1117 US-46, Suite 205 and is situated on Route 46-E, right off NJ-3 and near the Garden State Parkway. The clinic has plenty of parking and is located just past the Ford dealership on Route 46-E.
Our West Orange office is located at 445 Pleasant Valley Way and is situated in the same medical office as Twinboro Physical Therapy and Dr. Michael Rieber/Orthopedics Unlimited, and is near the West Orange High School and the Wilshire Grand Hotel.
Our Paramus office is located at 140 NJ-17, Suite 269 and is situated just off NJ-17 and just off the Garden State Parkway. The clinic is near the Paramus Park Mall and close to the Garden State Plaza.
Our Woodland Park office is located at 1167 McBride Avenue, Suite 200 and is situated close to the Garden State Plaza.
Which Doctor Do You See for Back Pain?
When it comes to managing back pain, it is important to see a specialist who has the expertise to properly diagnose and treat your specific condition. At the New Jersey Back Center, we recommend seeing an interventional pain specialist.
An interventional pain specialist is a highly trained doctor who specializes in using minimally invasive procedures, such as injections and nerve blocks, to alleviate chronic pain. They also use medications to help manage pain and improve your overall quality of life.
Interventional pain specialists use advanced imaging techniques, such as X-rays, MRI and CT scans to identify the cause of the pain and then use their specialized skills to target the specific source of the pain. They work closely with physical therapists, rehabilitation specialists and other healthcare professionals to create a comprehensive treatment plan to address all aspects of your pain.
At the New Jersey Back Center, our team of interventional pain specialists led by board-certified pain management specialists, work collaboratively to provide the best possible care for our patients. We understand that every patient is different, and that's why we tailor treatment plans to meet the unique needs of each individual.